iOS Application Development in Bangalore
Who doesn't want to upgrade their application to iOS now? Yes, most industries want their application to be on iOS. The demand for iOS applications has rapidly grown over the years due to the recently found fondness for Apple gadgets. If you are looking for an elite iOS app development company in Bangalore, we are here.
To make your business grow in the Apple world, we help you with an application that is best suited for your business. Webomindapps is exceptional when it comes to iOS development. We have dedicated developers for iOS applications including iPods, and iPhones. We also offer game development as an addon with iOS for youngsters to stunning gaming graphics on their smartphones.
Why is iOS Application the Best for Businesses to Grow Globally?
Newly grown fondness for Apple gadgets made the App Store rank second after the Play Store first. Though the App Store holds second place, most industries choose the iOS platform to develop their app.
Market leader
As discussed above, Apple has already gained popularity in the market and rules it. It has become the market leader that offers unmatched features in smartphones, tablets, and laptops. Most businesses want an iOS application for their superior brand awareness, faultless software system, impeccable hardware, and high-end security. So, why not you?
Targets Potential Customers
It is said, Apple customers are the most dedicated customers ever. Once they get the hang of Apple gadgets, there is no turnback. Therefore, it helps to promote your brand to the targeted customers efficiently. Also, Apple engages tech-savvy customers who would appreciate new technologies and solutions to attain their goals.
Globally recognized
iPhone is recognized globally, so your chance on the global market. Most industrialists go for Apple because of its powerful protection against malware, virus, and other internet threats. The high-level security and sophisticated user experience make it rule globally. Therefore, businesses prefer the iOS platform to build enterprise apps.
iOS App Development Services We Provide
We provide various services in mobile app development; however, we build iOS application development for both iPhone and iPad.
iPhone
Have experience building, and deploying iOS apps for more than a decade.
Offers vivid custom iOS applications for your business.
We keep ourselves updated with the latest framework and guidelines for iOS.
All the backend technologies required to develop iPhone-compatible applications for you.
iPad
We have a trained and certified, specialized team that deals with iOS application development for iPad.
Use technologies such as Handoff, Photo Kit, Touch ID, and many more.
Building iPads help you raise your business competition in the market.
Apps on iPad reach more people as it is compatible with leading apps like Microsoft 365, Adobe Creative Cloud, MATLAB, etc.
What Makes Us the Best iOS App Developer in Bangalore?
Development Consultation for iOS Apps
iOS would not suit every industry. However, iOS applications can be fitted in most industries. We have the best consultation process for clients. At Webomindapps, we discuss and suggest the best suitable, good-fit application for your business that can be built on the iOS platform.
Creative UI/UX Design for iOS
iOS is a prevalent platform for its immaculate and refined user experience. We build a design that should be aligned with your business and the customers. Our dedicated team for iOS creates enchanted designs for users that last long.
Custom iOS Development
iOS Developers at Webomindapps are well accomplished in building a scalable, future-focused application. We extend our services equally enthusiastically to both established enterprises and any start-up or entrepreneurs.
iOS Software
Testing
Our main motto is to provide a 100% secure and safe platform for our clients. Therefore, we prioritize security and performance at peak. We make sure your application is error-free and hack-proof by implementing several modes of testing.
No Delay Delivery and Support
We follow strict timelines and track day-to-day progress on the application development. Our goal is to provide the advanced app on the dedicated date without delay. Also, we do not sit quietly after project delivery. We extend our services to maintain the application and 24/7 support for your convenience.
Our iOS Application Development Process
Clients Requirements
This is the initial phase of the iOS application development process where requirements from clients are gathered. Here we gather all the necessary information about the client's business, their customers, and the industry standard that we need to focus on.
Design Process
This is the phase; we start analyzing the problems and solutions with the requirements gathered. Our UI/UX designers will be active at this point to create interesting and innovative designs for the application.
Development of Modules
Our iOS developers actively start working on making the application work. At this phase, requirements from clients will become executed. Based on the design architecture, the modules will be built using a coding program and given for the next phase of the process.
iOS Testing
Once the design and development are completed, then comes the quality check phase. This phase is to test the application for any errors, bugs, and security breaches in the code. If any glitch is found while running an application it will be re-built and tested for zero error application.
On-Time Delivery
We keep our goal straight to complete the project in the given time. Our dedicated and skilled team makes sure that the client's project is not delayed under any circumstances. We also will have one-to-one discussions until the process ends to make sure our client's requirements are met.
Maintenance and Support
After handing over the project, we do not sit back. We provide all the necessary maintenance support for the application. You can contact me at any time to discuss the application. We will be available 24X7 for our clients to aid them with the iOS application.
Various Industries We Serve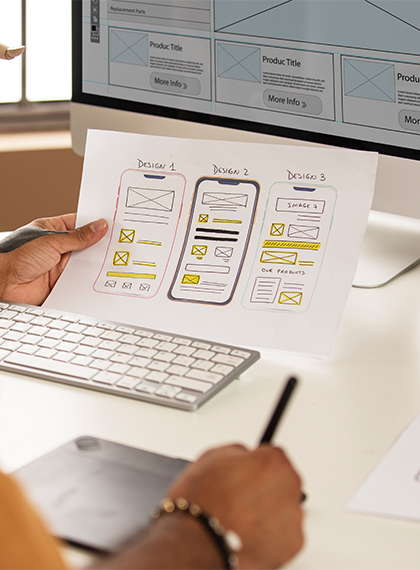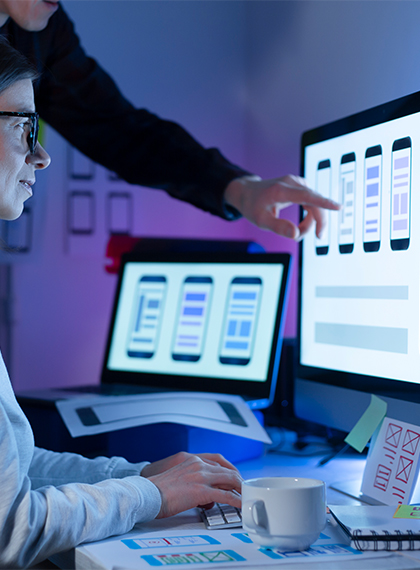 Retail Industry

The retail industry runs on distinct dynamics. An advanced iOS application can change the view of the retail industry. We offer our clients a complete view and display of all the details relevant to their products.

Tourism and Travel

After the lockdown, tourism is thriving now. Therefore, an application can comfort most tourists easily. We build applications on both Android and iOS platforms to support the tourism industry.

E-commerce

The E-commerce industry surely is one of the most promoted industries from the mobile application. We already have built several applications for e-commerce industries including those that support iOS applications.

Healthcare

Nowadays mobile healthcare applications to track weight gain/loss, fitness, Yoga, women's health, and age-related information are popular. Of course, an iOS application can make a positive change to the industry.

Finance Sector

We have worked with the finance industry and created mobile apps for Android and iOS that enable consumers to perform transactions while on the move.

Manufacturing

The manufacturing industry can utilize most mobile phone applications. With mobile applications, it is easy to monitor resources and manage processes and operations around the clock, every day in the week.

Online Food or Grocery Ordering Industry

A dedicated iOS application for iPhone or iPad users can bring in a huge difference in the industry. However, the application that runs on both Android and iOS can help the industry better. Webomindapps is well-versed in creating applications that run on both platforms.
We are just a call away
Change your app vision into iOS app supremacy with our dedicated team of iOS developers in Bangalore. Reach us now to make your dream come true…
Frequently asked question (FAQ)
First and foremost, the iOS application should be developed in a way that it is compatible with all Apple gadgets such as iPhones, iPad, etc. iOS Software Development Kit, and all testing environments to test the app.
It is certain that most people use Apple gadgets widely for their business or daily communication/ interaction. When you want to target potential customers of your business, it is a good fit to build an app for the iOS platform. It creates more secure and personal relations with your users.
Being a top iOS app development company in Bangalore, we use various technologies to build iOS applications on both iPhones and iPads. Backend technologies are required to develop iPhone-compatible applications such as HTML 5, Objective C, and Swift. The set of development technologies used for iPad apps is Handoff, Photo Kit, Touch ID, etc.
App compatibility of both iPhones and iPad varies. However, iPhones and iPad apps can be found in the same App Store, they run on distinct operating systems- iOS and iPadOS respectively which are almost similar. However, an iPad has the tendency to run any app built for both the iPhone and iPad.
Your iOS app or any other application need not be updated frequently unless you need any modification in your application. Based on your requirements, Webomindapps creates an application. If you need any modification or change to be updated, we are happy to assist you.